Peek into our exclusive coffee and its cycle of life — from summer to winter — From the heady aroma of white blossoms in February, to the green and ripe red beans through December. Each season of coffee has an indelible charm and camaraderie that Riverwoods brings to life under the warmth and care of its large hearted coffee planter owners.
An itinerant traveller's peek into Riverwoods:
Sitting nestled amidst the coffee estate surrounded by towering jungle trees, winding pepper vines and tall teaks in a setting straight out of a jungle retreat, the luxury homestay in chikmagalur is the only one in this coffee district that has the River Bhadra flowing alongside it, where one can hike, cycle, kayak and raft as the clear water beckons a cool, refreshing dip.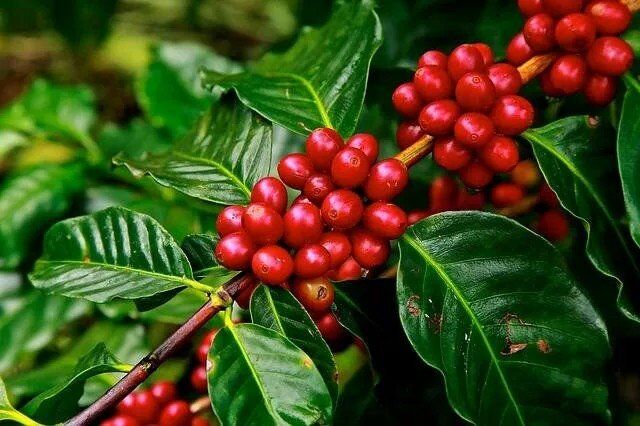 Discover the Natural Beauty with the best resorts in Chikmagalur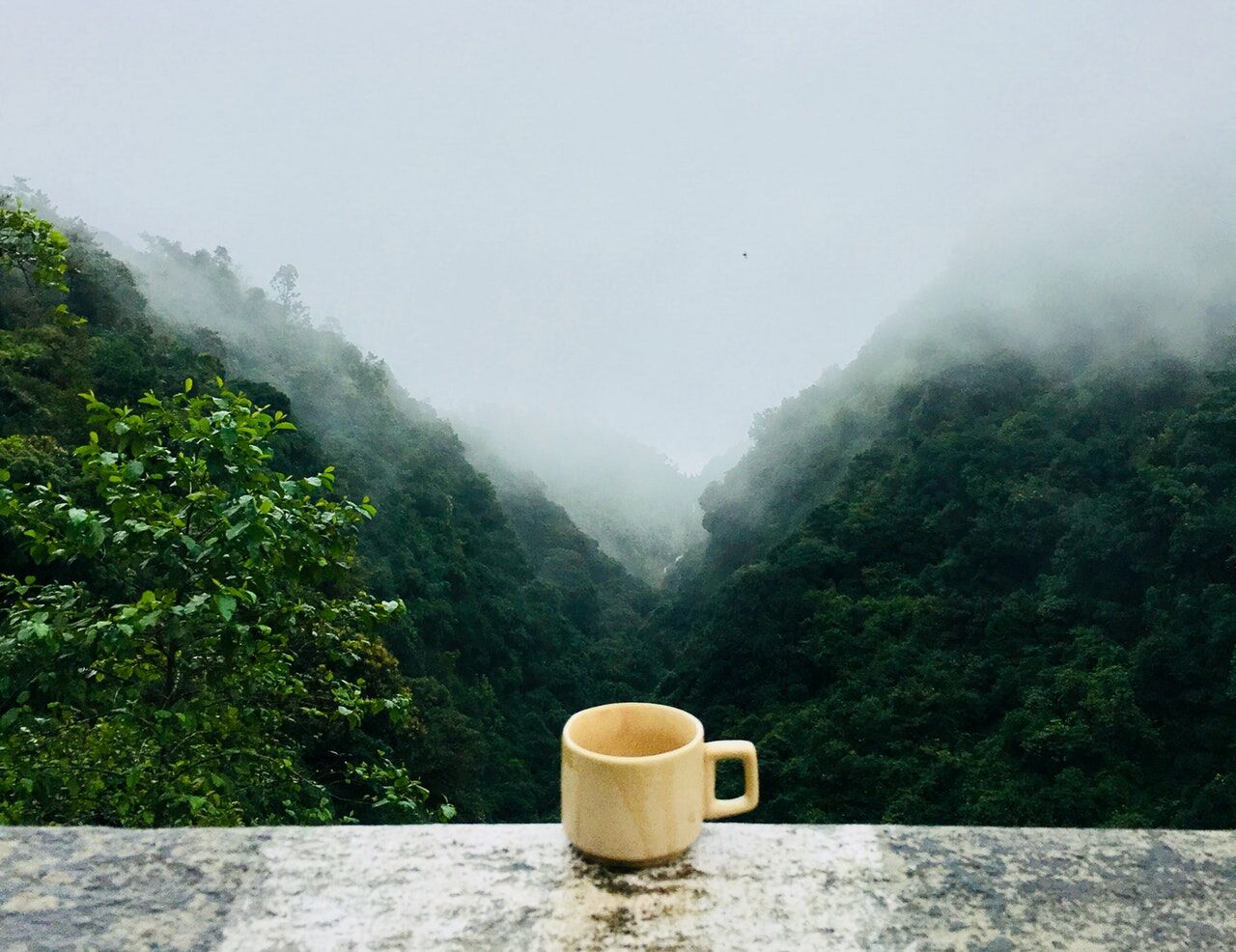 Tucked away in Chikmagalur district of the Western Ghats, Riverwoods homestay in Chikmagalur is set amidst 360 acres of Robusta coffee, pepper, areca plants and a garden full of home grown vegetables. Enter its serene confines with the beautiful silhouettes of rolling hills. Endless fields of paddy in tones of green and yellow kiss the sky, disappearing into the horizon. The thick growth of coffee interspersed with pepper vines, fruit trees and local flowers give you the first glimpse of a perfect coffee getaway.
Riverwoods Homestay is among the few quaint, charming 60s style plantation bungalows in this verdant landscape which offers spacious bedrooms, traditional rich red oxide flooring, wooden ceilings and tiled roofs. It is surrounded by spacious and lush gardens filled with seasonal blooms and fruit trees. It is right at the foothills of the Avanthy Coffee Estate, a rustic 'Home Away From Home."
Riverwoods is UNIQUE, not only because of the River that runs alongside the estate, but also because of the rich biodiversity of the land, and its non toxically grown coffee. The coffee at Avanthy Estates is lovingly grown, free of any pesticides, fungicides and weedicides. And in sync with nature, our method of biological farming ensures a safe haven for birds and other living creatures, protecting ecological balance. Composting, sustainable farming, using minimal and only necessary inputs, ensures a non-toxic and green plantation environment for our future generations to enjoy.
Come experience each unique coffee season as it unfolds in the lap of nature's bounty. "Feel at Home," and live the simple, warm and hospitable life we live, amidst our coffee plants and our feathered and furred creatures.
OUR HOMESTAY ROOMS
Envelope in the warmth of a village grandmother's old bungalow with home-style warmth thanks to its antique-loving owners. Rustic bric-a-bracs, paintings, collectibles and olden day quaint articles which are conversation starters,bookshelves and owner-created paintings lend it a wholesome soul.
OUR CUISINE
This tastefully designed haven serves up regional delicacies with the flavour of local recipes using seasonal, local produce, and some hearty barbeques under a night sky filled with stars, where the chirp of crickets is the only conversation you can hear interspersed with the crackle of a warm fire.
Enjoy Chef Lalithas healthy, home cooked, Malnad cuisine,a Labour of love.
OUR BIRD LIFE
Interested in bird watching or photography? This is the right place for you…welcome to Chikmagalur abode of diverse birds and breathtaking landscape. Our cottages in the stunning and calm scenery of Chikmagalur offers the perfect aura for photography. Come and take with you an array of memories and peace of mind you would cherish forever from bird life of Chikmagalur.
OUR COTTAGE PRICING
Rs.4,500/- Per Person Per Night on Double Occupancy
Rs.3,500/- Per Person Per Night when Shared by 3 to 4 Persons
Rs.3,300/- Per Person Per Night when Shared by 5 Persons
Rs.3,000/- Per Person Per Night when Shared by 6 Persons
Package includes Stay, taxes, all meals (breakfast, lunch, tea/snacks, dinner) BBQ campfire, river visit, fun fishing and coffee tour/trek.
OUR RUSTIC HOMESTAY PRICING
House of 5 Bedrooms and 3 Baths
Rs.4,000 /- Per Person Per Night on Double Occupancy
Rs.3,200 /- Per Person Per Night when Shared by 3 persons
Package includes Stay, taxes, all meals (breakfast, lunch, tea/snacks, dinner) BBQ campfire, river visit, fun fishing and coffee tour/ trek.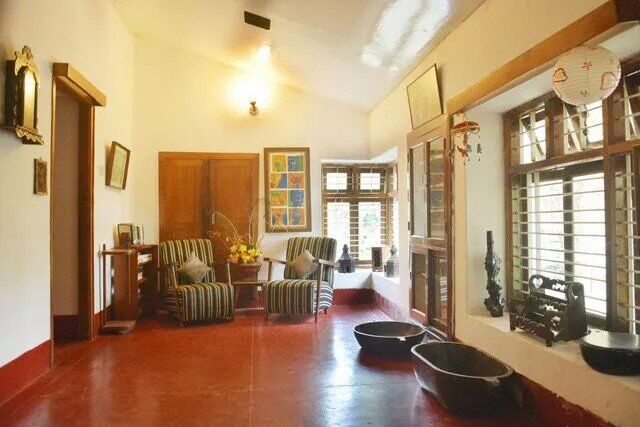 HOMESTAY
House of 5 Bedroom and 3 Baths
COTTAGES
Luxury cottage of 1000 sq feet
Things to do @ Riverwoods
Experience the thrill of river rafting and kayaking at your convenience at our homestay in Chikmagalur
Enjoy activities like a BBQ around a warm bonfire under the stars.
Idyllic fun-fishing , Trekking, and Birdwatching.
A coffee tour/trek with planters and their inexhaustible knowledge of coffee.
A refreshing dip in the river Bhadra which surrounds our property.
Indoor and Outdoor Games include Volleyball, Badminton, Cricket in our coffee yard and board games.
Kudremukha National Park – 1hr (very scenic-waterfalls and view points)- enroute from Mangalore-Kalasa Temple/Temple town-40mins-Horanadu Temple – 1.15 hrs
Sringeri Temple and Sirimane Falls – 1.15hrs
Rambhapuri Matta – 45 mins
Merthi Peak – The second highest peak in Karnataka.Makes for a great hike
Belur/Halebid and Shravanabelagola -on the way to Riverwoods from Blore.
Map: Map will be specified* plz do not follow google maps.
Bhadra & Kudremukh Sanctuary
Enjoyed the stay and food. there are Good place to visit nearby. you can enjoy swimming in the Nearby River. Barbeque and Campfire are part of the package. Traditional village atmosphere makes you feel good.
Beautiful and calm place to stay.
Enjoyed the stay, Morning Walk around Estate gives you awesome refreshment with full Greenery. It was a serene and relaxing stay amidst, there are Good place to visit nearby. Most importantly the hospitality,the manager Mr. Srinivas was Awesome, he treats the Visitors more than his Family Members.
Fantastic Voyage
Nice and clean cottage. Srinivas was very good and his hospitality was great. Meals were great. Barbeque with bon fire was good..lot of games options to choose. In the midst of jungle. Beware of leeches when u go on estate tour.
Amazing 1 day
Pros : Location, hospitality, drive, food. Cons : No hot water for bath. Comments : Visited this place in December (Christmas time). Its located in between Bhadra and Kudremukh National Park. Ideal spot to visit these national parks from this homestay. Would recommend.
Good Getaway
Come & Enjoy Our Hospitality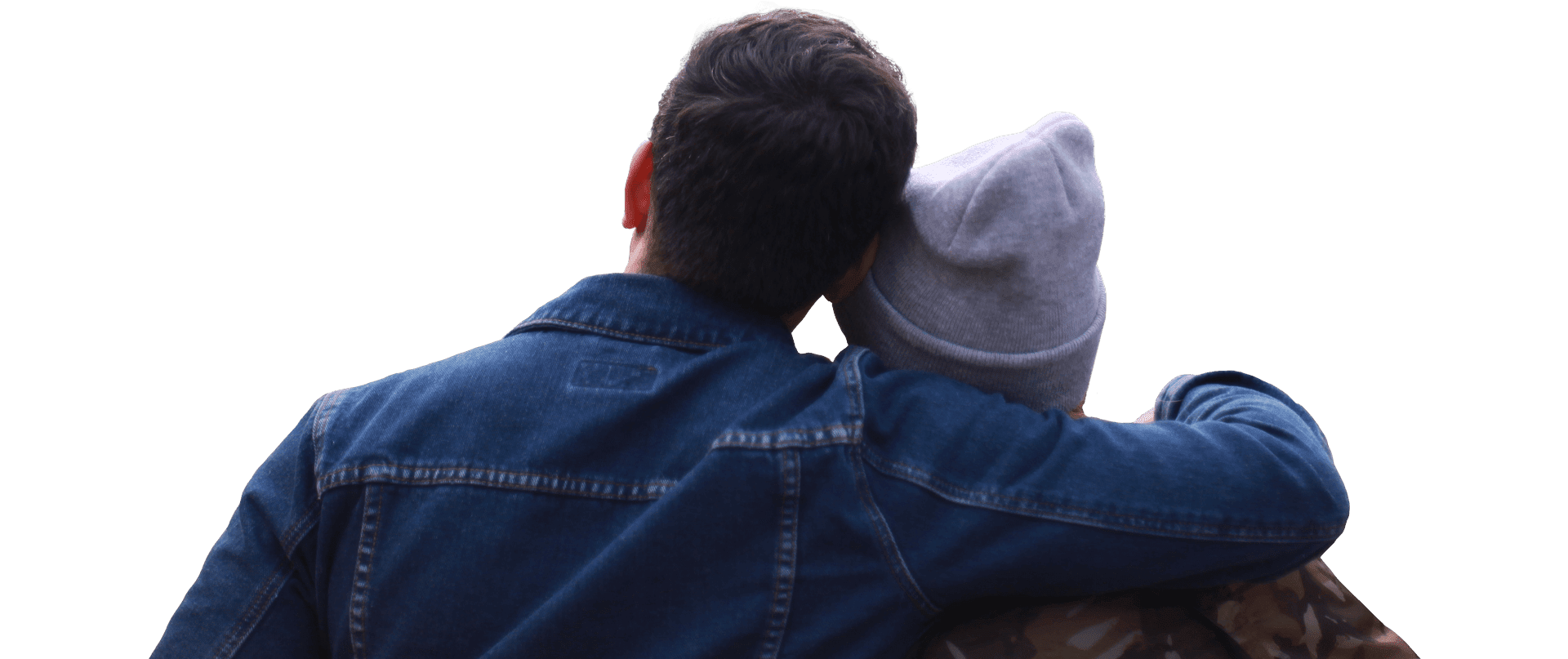 Popular Tags:
Luxury homestay in chikmagalur | cottages in chikmagalur | homestay in chikmagalur | chikmagalur homestay | luxury resorts in chikmagalur | best homestay in chikmagalur | best places to stay in chikmagalur | chikmagalur camping | chikmagalur resorts and home stays